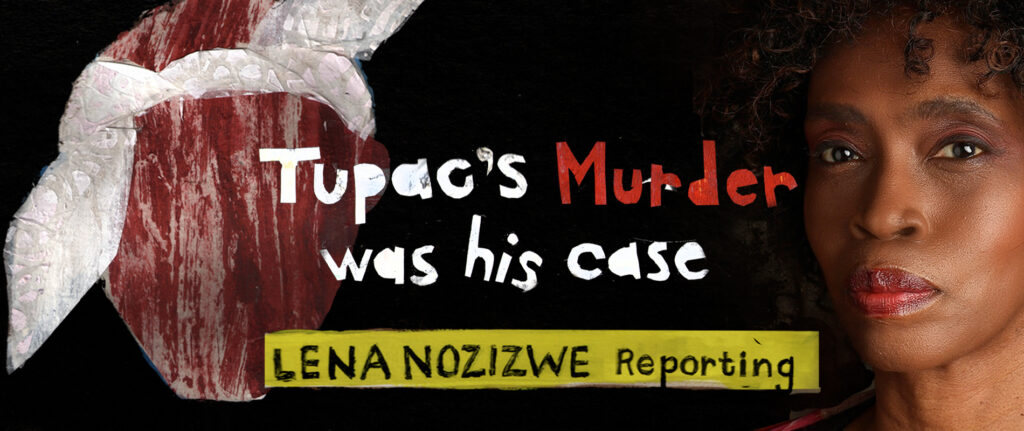 About the podcast
Twenty-five years ago Lena Nozizwe scored a number of exclusives in covering the murder of Tupac Shakur.
Twenty-five years laWatch | Facebookter more exclusives to come via her series of interviews with one of the original investigators of Tupac's murder. "Lena Nozizwe Reporting: Tupac's Murder Was His Case."
Nothing is off the table.
#tupacmurderpodcast
About Lena
Lena Nozizwe is an Emmy award-winning visual and verbal storyteller. Her non-fiction writing, documentary films, and video news stories have been read, heard and seen by millions
Nozizwe's stories and films have been featured on KCET.com, Link-TV, AJ+,DW, Gravy , Making Contact and more.
Nozizwe is the author of the motivational book, "Starring in Your Own Life," published by Simon & Schuster.
Beyond covering the violent deaths of Tupac Shakur and The Notorious B.I.G. high-profile cases Nozizwe has also covered a number of other headliner cases including the Oklahoma City Bombing, the murder of Gianni Versace, the West Memphis Three and multiple racial justice protests.
Her stories have taken her everywhere from Dakar to Dublin, from Paris to Portland and from Stockholm to San Francisco.
But for her latest venture, "Lena Nozizwe Reporting: Tupac's Murder Was His Case," she did not have to go any further than her home office. And she kind of likes that.